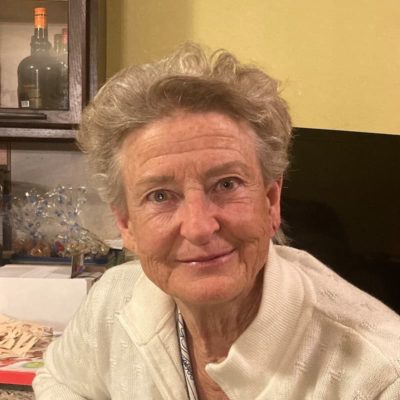 Deb Hage
Deborah is a mother who became a therapist by necessity and believes parents are a child's primary therapist. When parents are given the right support and tools they can be successful.
Deborah has been working with traumatized children since 1973, when she adopted a badly neglected infant. She and her husband raised 10 children, many of them emotionally and behaviorally disturbed due to early childhood abuse and neglect. Since then she has helped thousands of families and adults find ways to help themselves and their children create for themselves a happier, more connected, life.
Kara Napolitano
Kara has lived and worked in Summit County since 2003. She came here for all the same reasons everyone does, and fell in love with the Ten Mile Range (and all the other mountains). During her time here she has worked seasonally locally while pursuing her education and career in human rights. Kara has spent about eight years in Africa, the Middle East, and Asia, working with education-focused NGOs in post-conflict areas. It was during this time that she was introduced to the crime of human trafficking and exploitation. Upon returning to the US seven years ago, she began to focus systemic change to end domestic labor and sex trafficking in Colorado. Kara has a masters in International Human Rights Law from the University of Denver. For the last two years she has led training and education efforts at the Laboratory to Combat Human Trafficking as the Research and Training Manager, training more than 10,000 professionals on how to recognize and respond to trafficking in forty counties across rural and urban Colorado. She joined the Board of Directors of Tree Top Child Advocacy Center in 2019 to support trauma-informed care for youth in our community who have experienced abuse.
Melissa Barbour
Melissa was born and raised in Colorado. She attended Colorado State University- Fort Collins and obtained a Bachelor's degree in Social Work, as well as, a Master's degree in Social Work. Melissa moved to Eagle County in 2013 where she worked as a child welfare caseworker for several years. She then took a short sabbatical to enjoy traveling the United States and Canada and then hiked the entire Appalachian Trail in 2017. Melissa then moved back to the same mountains that she left and slid into the role she is in now, Supervisor of the Children, Family and Adult Services division in Eagle County. Melissa is also a Licensed Social Worker and trained in providing Trauma Focused- Cognitive Behavioral Therapy (TF-CBT). Melissa has seen first hand the remarkable and important work that Tree Top and other child advocacy centers have done for victims of abuse and neglect. Melissa joined the Board of Directors for Tree Top in 2020 to support children and families in her community in obtaining appropriate, trauma- informed care.